MY CAR:  1971 Dodge Charger 500

Name:  Ilyssa

Location:  New York

Executive Board:  Richmond County Mopar Club

    Let me tell you about my car.  In 1984, I got my first car, a 1972 Dodge Charger.   I was ready to explore the world!

    Life took me in a different direction and I no longer had the car.  In 2000, I found a replacement - this 1971 Charger 500 and bought it - for $100.  It was a mess - rusted throughout, but I saw the diamond in the rough.   Nine months later, I had a trophy winner. 

    I was sure that when I got in the car, I'd be 18 and a size 9 again...while that DIDN'T happen...I still get that sense of freedom and independence every time I turn the key...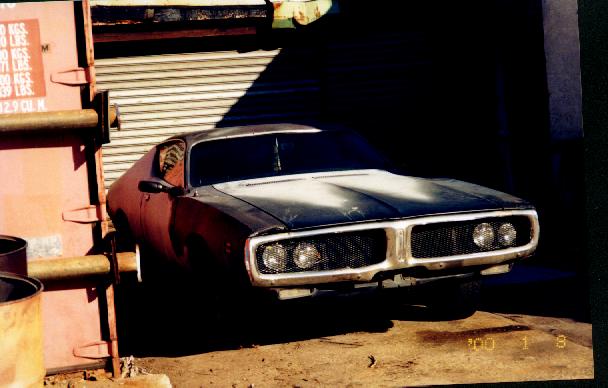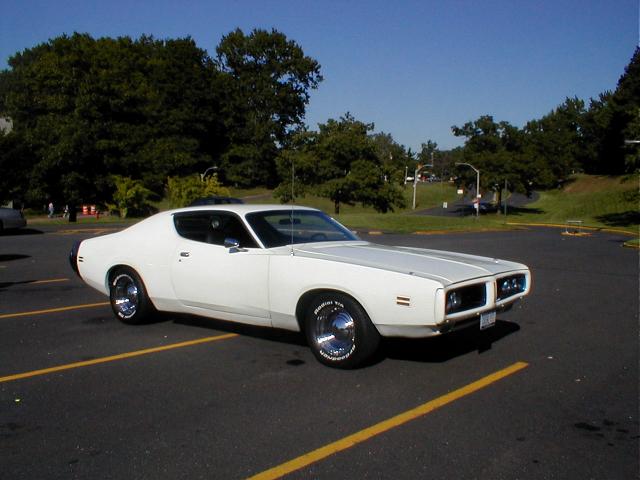 MY CAR:  1992 Camaro RS

Name:  Crystal

Location:  Lafayette, Indiana


My 1992 Camaro RS is factory stock, V6.  It's a 25th Anniversary Edition.  I haven't done any modifications to it as of yet. This was supposed to be my winter project. I have checked into air shocks for it. But I was told that they don't make them for my car. So we are going with larger coil springs out of a station wagon. I also wanted to put some cobra eyes on the hood...but then decided that I don't want to drill holes in the hood.  My color scheme is going to be red, white, and blue. I have two interior lights that beat to the music. You can't see it in the pictures but there are roses on the corners of the t-tops, windshield, and back window.

I am just getting started on this. I did put her in two car shows last summer - I was Best in Show in one of them and Top 40 in the other. 

Any modification ideas are welcome!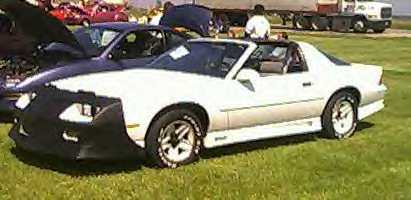 MY CAR:  72 Dodge Dart Swinger,  71 Plymouth Scamp, 67 Dodge Coronet Station Wagon

Name:  Dart Girl

Location:   Indianapolis


I'd like to see a small message board and or chat room where fellow women car enthusist can come together and chat/talk and give tech tips and show their current projects. I'm getting ready to repaint my car, I've got pics of doing the exhaust and vinyl top and working on the engine.I'd like to see pics of other women doing the same thing. I think it's a symbol of empowerment and that more women need to be inspired to take up the reins and start doing what they love best even if what they love best is considered a "man" type thing.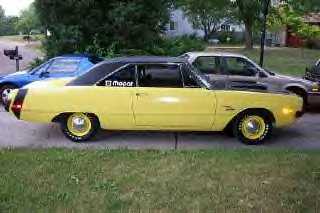 MY CAR:  1985 Monte Carlo SS

Name:     Pam~MonteRoseSS85

Location:  Indiana  


This is my burgundy 1985 Monte Carlo SS.  It has a 454 C.I.D. engine, 700r4 tranny, 373 gear and lots of extras. I have come a long way to get where I am now with this car.  To make a long story short..engine thieves should be shot! 
      My Monte came originally with a 305 C.I.D engine and since then I had it changed over to a 454 C.I.D. engine which only had 60,000 original miles on it.  It also came out with a 200r4 tranny which was changed over to a 700r4.

      My future plans with my Monte are to do some more modifications such as a new cowl induction hood, which is on its way to me as we speak, along with a new shifter.  I also plan on taking it to the local drag strip to find out what kind of times that I can get out of it.  Sure beats running the guys on the street that like to let off the gas peddle and say that they beat ya when you were just getting into it....lol

    I also take it local car shows and do very well in winning.  I am a member of the National Monte Carlo Owners association. 


"Bad girls drive Bitchen' Toys"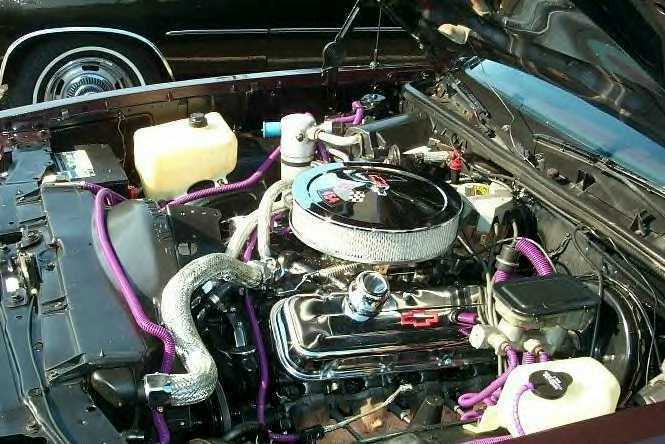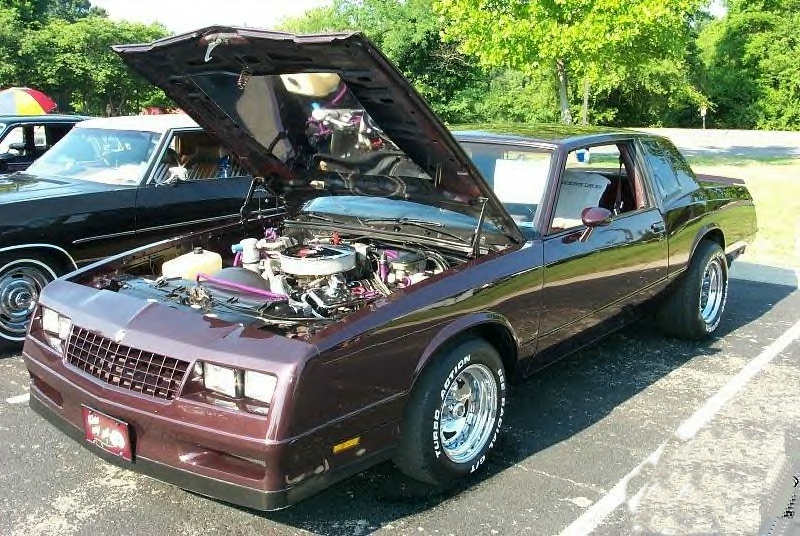 On the Road

Yes - we own them and we DRIVE them!

MY CAR:  1985 Mustang

Name:     Ann-E

Location:  New Jersey  


In my house, we do Mustangs and Corvettes.  This is my red 1985 Mustang.  We bought the car in October 2002 with 26,000 original miles - it's completely stock - no artifical flavors, no artificial colors - no modifications.  For an 18 year old car, you would think we just drove it off the showroom floor.  The Currently, the car has 27,000 miles - so you see, we don't drive it much - it's my show car!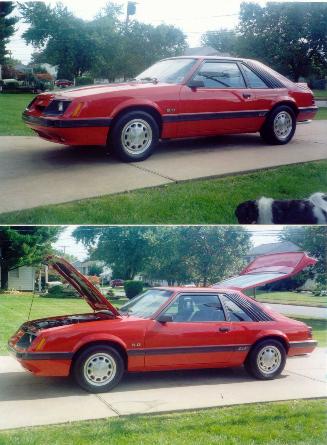 MY CAR:  1971 Plymouth Cuda

Name:    Dawn

Location: Missouri

I fell in love with the Mopars when I met my husband.  When we met he had a 1973 Dodge Challenger that looked like a joker car.  Each quarter was painted a different color (one panther pink and the other sub lime green) and the middle of the car yellow and the rest of it was primer.  Couldn't make up his mind which color to paint it.  Well, he hated driving it everyday so I drove it and he drove my lousy Contour.  Biggest piece of crap I ever owned.  He started teaching me more about the Mopars.  When I could recognize the difference in them I fell in love with the 71 Cuda's.

After a year with him and then another year being married, we started looking for one.  My first Mopar was a 1972 Cuda.  It was a little weak and rusty underneath.  We sold it to buy a 71 Cuda hubby knew about around our town.  Some people were upset because they didn't think it could be bought.  We did and it was a 340 original billboard car.  We bought it in April, traded it straight across for a 383 Curious Yellow Billboard Cuda in late Nov.  We got in a bind and had to sell it in late January 2002.  I cried all day when it left.

My husband and I both regretted selling it ever since.  This January of 2003, we finally bought it back (cheaper than we sold it).  That didn't matter to me.  I just wanted my car back.  It took us about 6 months to track it down then another 5 or 6 to persuade the guy to sell it back to us.  SOOOOOO excited that day we picked it up.  Didn't believe it was back until it was sitting in the yard.

It has a fender tag, build sheet, and now a shaker hood and yellow lettered tires.  Love to drive it everyday (weather permitting).

If anyone out there comes across it, I am looking for a collapsible spare for my 71 Cuda.    I can also help someone with extra Mopar parts if anyone is looking. You can e-mail me at : kelleyrd30@aol.com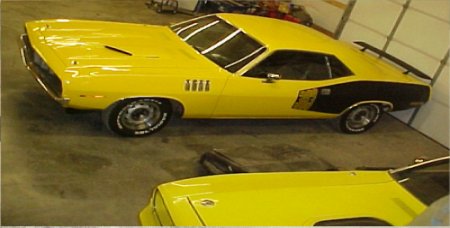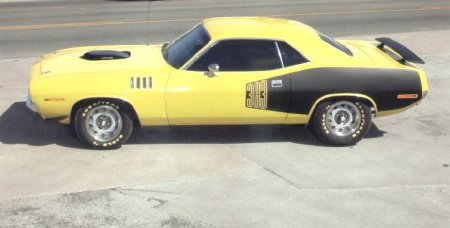 MY CAR:  1970 Barracuda Gran Coupe Convertible

Name:    Irene DeGraff

Location: Upstate New York

  As for my cruisin rig - it's a '70 Barracuda Gran Coupe convertible  with a 340 in. Got it in '91 and haven't really done anything to it.  The motor is getting a little "tired".  Don't know what mileage was on it when the car was resurrected from a Maryland junk yard years ago and put back together.  Ever since I've had it, I've run at the MOPAR Atlantic Nationals at Englishtown, NJ in June.  Wanted to try one run down the 1/4, and have been running every year since -  as many time trials as I can get in on Saturday and Sunday, then the eliminations.  Did win first place in my class one year (forget when), and second the year after.  Each year I usually manage to win one or two elimination rounds.  (I must tell you here and now - I'm not a young person.  I'm 60 years old!!)


Have you ever been to the track and heard a youngster cheer "go Grammy"??.  You should see the spectators look.  I also race at Lebanon Valley Speedway near Albany. Personally, I don't like that track as well as Englishtown, but it's considerably closer to my hometown.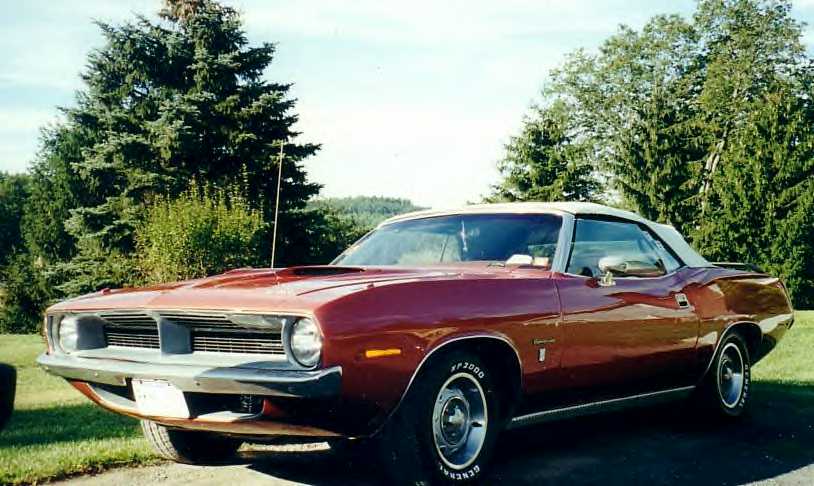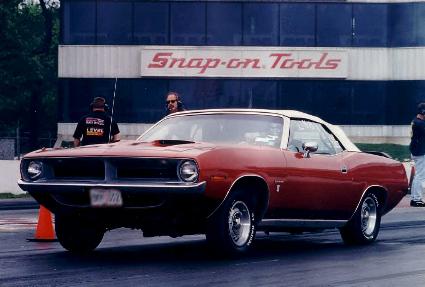 MY CAR:
  '68 Olds 442

Name: 
  Wendy

Location:  New Jersey

  I have long had a great love and appreciation for cars, no doubt a trait I got from my mother (her dad was a longshoreman and mechanic). Every car we had (until 1984) was a V8 second hand monster.  One of  my childhood dreams: own a muscle car before I turn 30.  A coworker, knowing my love for the finer autos, spotted a sleeper in Princeton, NJ.  Having been in the market for a while but unhappy with what I saw, I checked it out.  She was hot.  1968 Olds 442, V8 455 under the hood, needed minor clean up under the hood but quite the sleeper.  Turns out the car came in from Texas, originally lost in a sour game of poker to a card shark (true story).  After a little wheeling & dealing,  it was mine.  First order of the day, throw the 750 Edelbrock carburetor in there. I love the car. I hope to get her in shape for April's show at Englishtown Raceway, NJ this year.  Meanwhile, my husband knows nothing about cars.  Most people get a kick out of it when they see a me and not my husband under the hood.  And, about that childhood dream? I will be 30 this year.  Thanks for putting together such a great website and I would love to hear from any other women who know love their cars.  Cheers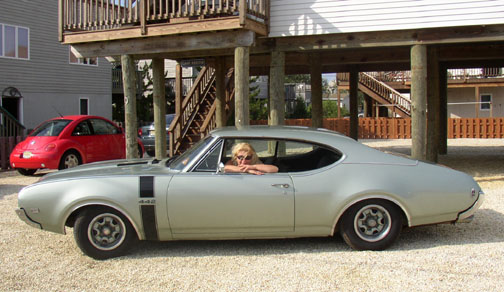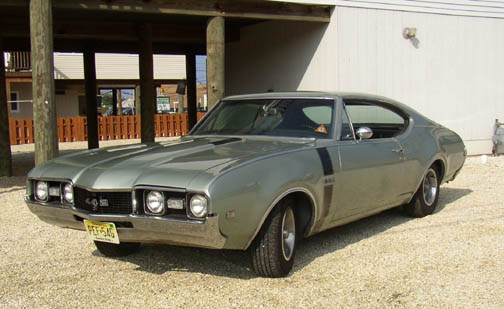 MY CAR:  '34 Ford 3 Window Coupe Streetrod


"The Wild Rose"
Name: 
  Diane Reprogle

Location:  Sevierville, Tennessee

This is my Cool Ride.........................Bring it on Boys! 

Lokar Rose Color; Ivory Leather Interior; 350 Cu-in ( Edelbrock ) ( Holley Carb); K & N Filter; Budnik Wheels; Remote Entry; Air / Tilt / Cruise / CD / Smoked Glass / PW / PS / PB; Custom Dash; VDO Gauges; Lokar Shifter

Custom Floor Mats; 3rd Brake Light; Custom Pin-Striping; GoodYear Eagles Tires; TH700R4; Mustang Suspension; 8.8 Rear End; Chrome Shocks; Chrome Differential; Chrome Pipes; Turbo Mufflers; Lowered 2" in front

Billet Arm Rest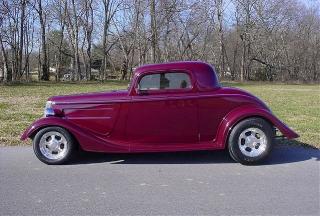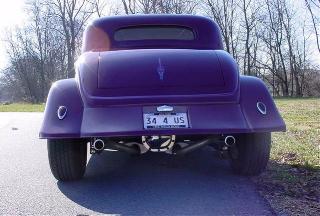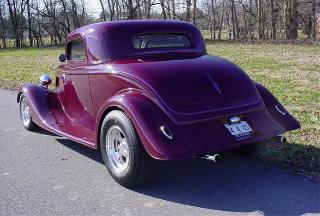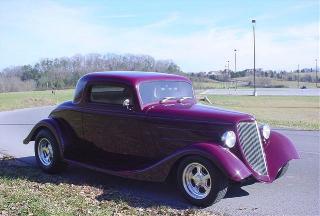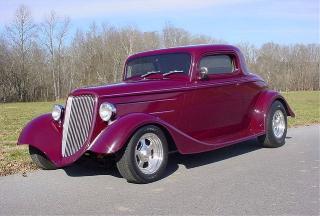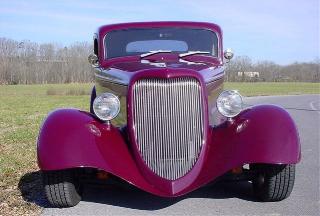 MY CAR:  '53 Ford F-100


"Just Cruznit"
Name: 
  Diane Reprogle

Location:  Sevierville, Tennessee

Here is another of my Rides, my Low-ride Custom Truck!

Torch Red; Cloth Interior; 302 cu-in. ( Edelbrock ) ( Weber Carb );

Tilt out hood; Volare Front end; C4 Tranny; 9" Rear end;

Air / Heat; Tilt Wheel; Ididit Steering Column; P/S   P/W  Disc Brakes

Custom Dash; Dolphin Gauges; Custom Ford Logo Floor mat;

Tinted Windows; Remote entry; American Racing Wheels (Tailgunners); Michelin Tires; Air Shocks ; Gas Shocks; Flow Master Mufflers; Chrome Pipes; Custom Oak Wood Bed; Lowered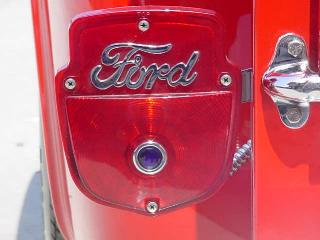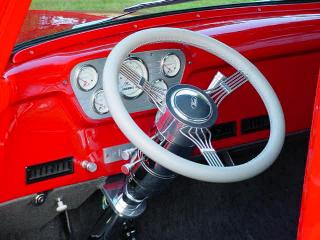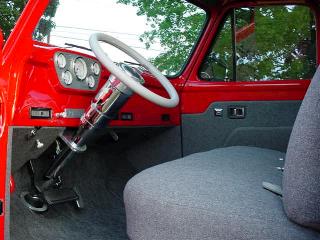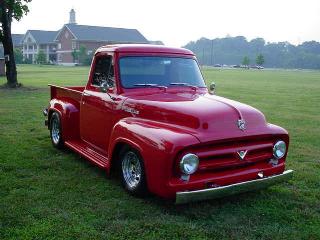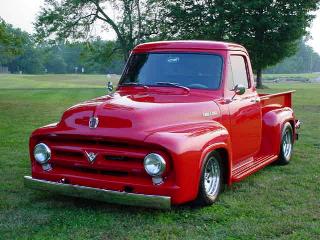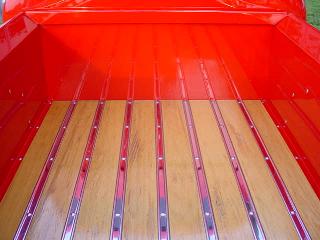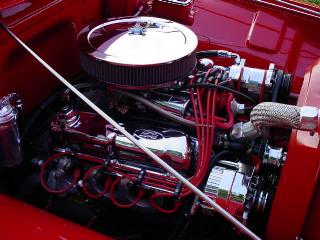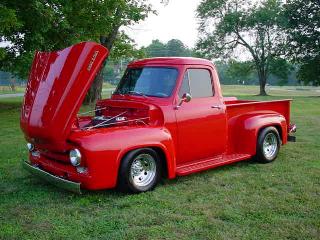 MY CAR:  '57 Chevy Bel Air

Name: 
  Diane Reprogle

Location:  Sevierville, Tennessee

Here is my 3rd Ride, Nothing but Class with my 57 Chevy!

2 Door Hardtop; Coronado Yellow / White; 350 Cu-in; Automatic;

Air; Tilt; Cruise; 95% Stock; Continental Kit; Chrome Pipes; Flow Master Mufflers; Ground up Restoration by L.R. Stevenson of Louisville, KY;

One of a Kind Classic Car owned by a One of a Kind Classy Lady!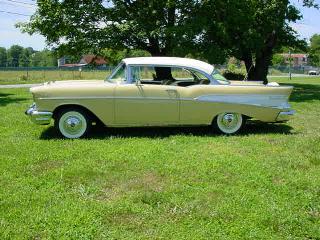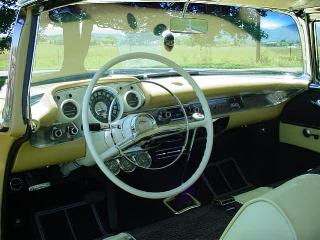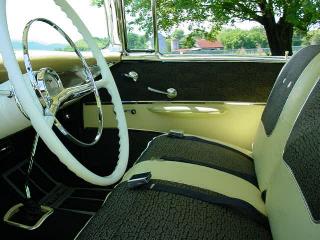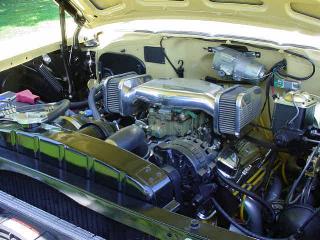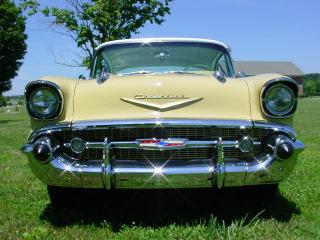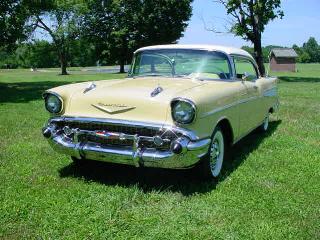 MY CAR:  '50 Ford F-1 Pick Up

Name: 
  Sara Ford

Location:  Milan, MI

I am restoring my '50 Ford F-1 PU.  It is being completely restored and as close to original as possible. I have ran into some problems and will probably be putting it into storage for the winter. It is about 75% done.

I have submitted two photos, but you can see more on the website of my Classic Car Club, www.backstreetcruizers.com. Go to Activities  than to January and there is my Blue Angel.....

The people in that club are some of the greatest people I know.  When you look at the website you will see how active they are in our community and also as a club.  They help the community so much in so many ways, everyone is so proud to have them as our "Club".

Well, thanks again for having you website for gals, it is inspiring and fun.  When my truck gets finished, hopefully next year, I will submit those photos for publication on your site.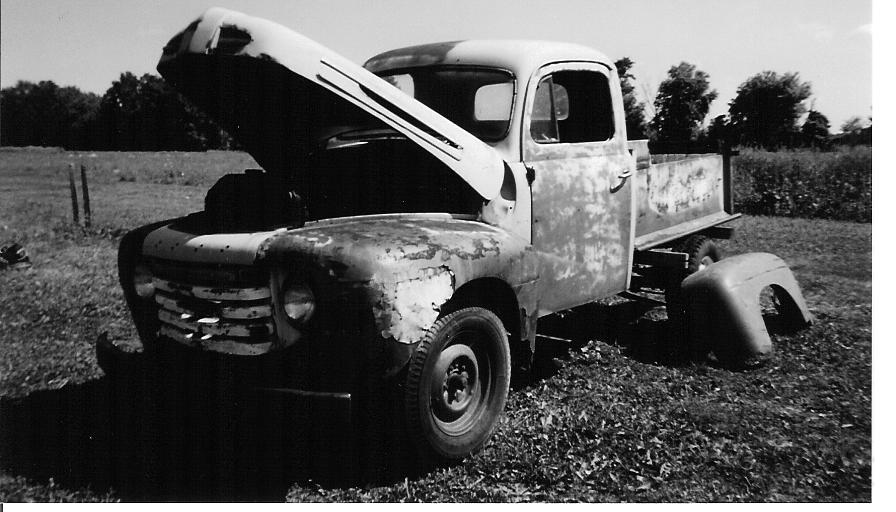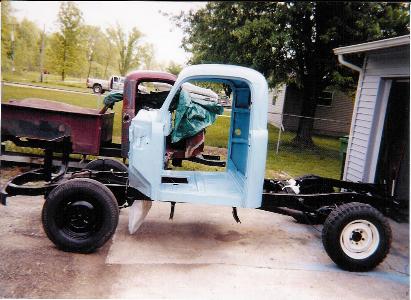 MY CAR:   1970 Oldsmobile Delta 88 Custom, aka "Sherman"

Name:     Cynthia, aka Delta 88 Lady

Location:  Maryland

I bought this beauty Oct. 16, 1992.  My husband & I are working on restoring my baby little by little, as parts for this particular year are hard to find.

Sherman has a 455 rocket engine with 350 horsepower, 500 foot pounds of torque stock. plus we have done a couple minor modifications that have increased the horsepower, like replaced the points distributor with an HEI, & added a super coil.  otherwise though, my baby is all stock, just as I want.  Well, ok, the pink dash lights may not be stock, but they are a cute touch, what can I say??  I like pink! 

The exterior as you can see is burgundy/red, although the original color was silver (as you can see inside the doors), interior is black.  The car is about 20' long, weighing in at over 5500 pounds.  It has power windows & seats, an am/fm cassette player, a/c & (my personal favorite) a Dixie horn that my husband & I installed earlier this year.  It has over 300,000 miles & is still going strong, partly, I believe, thanks to the wonderful invention of synthetic oil. 

Most people see my car, faded paint & some rust spots & think its a pile of junk.  But I look at it & see the beauty of the sleek lines, hear the powerful purr of that big engine & just fall in love all over again!  I cant wait 'til the day my Sherman is completely restored & show off his beauty!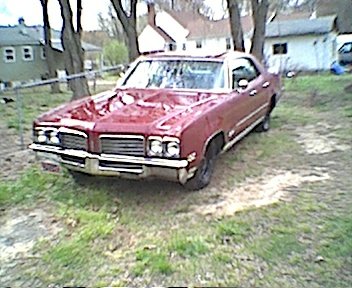 MY CAR:   1988 Chevy Camaro Z-28

Name:     Kristen

Location:  Atkinson, WI

I'm twenty years old.  My soon-to-be husband bought this car for me and painted it Hemi Orange.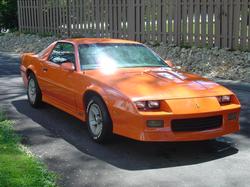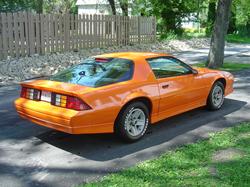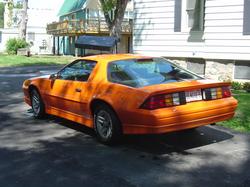 MY CAR:  '66 Plymouth Barracuda

Name: 
  Rene Brennan (18)

Location:  Walla Walla, WA

Member of the Walla Wall "Hot Wheels" Car Club


This 1966 Plymouth Barracuda was purchased by my dad from
the original owners in Spokane Washington.  My dad (also a car nut)

and I restored it and have been showing it here in the Pacific Northwest. 


It's a stock '66 with a "273" V8 and 4 bl with automatic.  It's B-5 Metalic Blue with black stripes and black interior. It has "Fenton" slotted aluminum mag wheels, dual exhaust, and HiJacker shocks for that '60s "stance".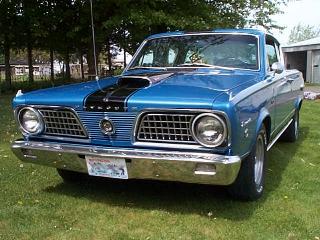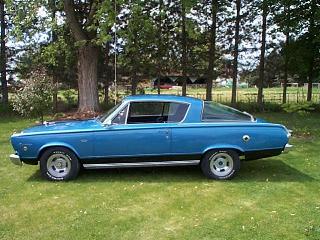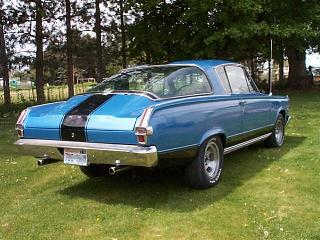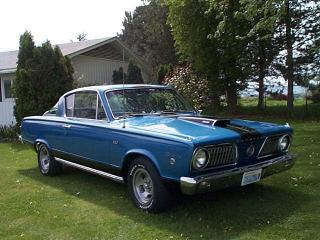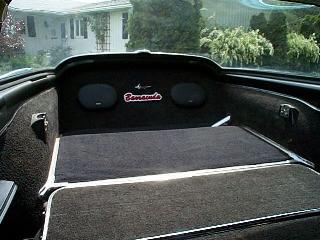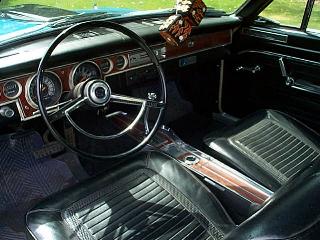 MY CAR:   1968 Barracuda Fastback

Name:     Leanna "The CudaChick"

Location:  New Orleans, Louisiana

A work in progress since April 1991 ....   I won't bore you with the way old stuff.  Here's some pics taken after it was finally starting to get cool.  The beast should be on the road by April 2005.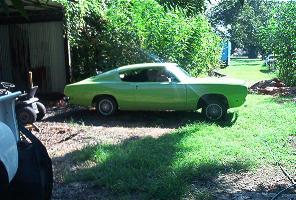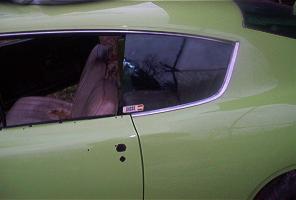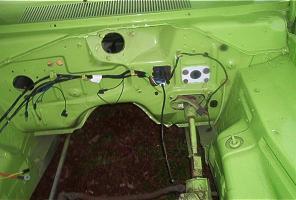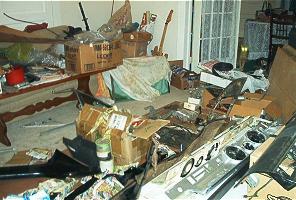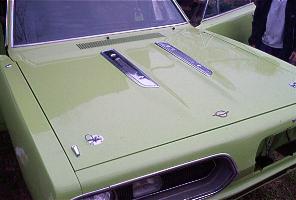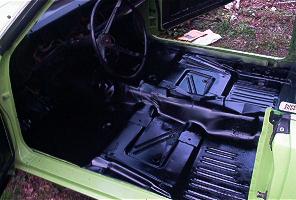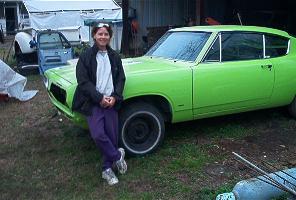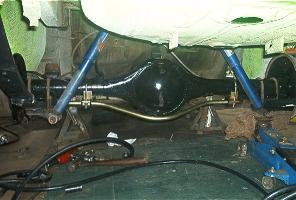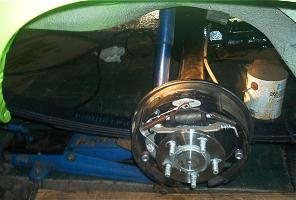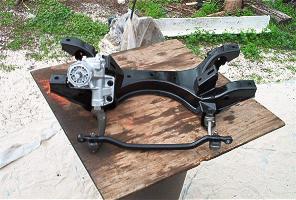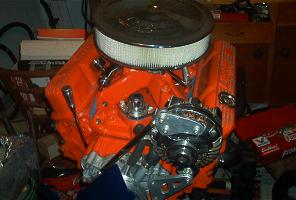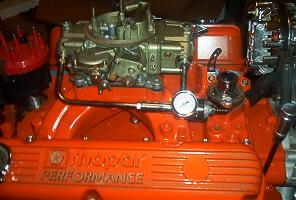 MY CAR:   1968 Chevy Camaro

Name:     Lorrie Jewell

Location:  Moreno Valley, CA

I love my girl so much that she's my "DailyBaby" I couldn't see just leaving her in a garage!  She's old and beautiful and has earned the right to be seen daily.  I am the only one that wrench's on her, maybe thats why I'm single?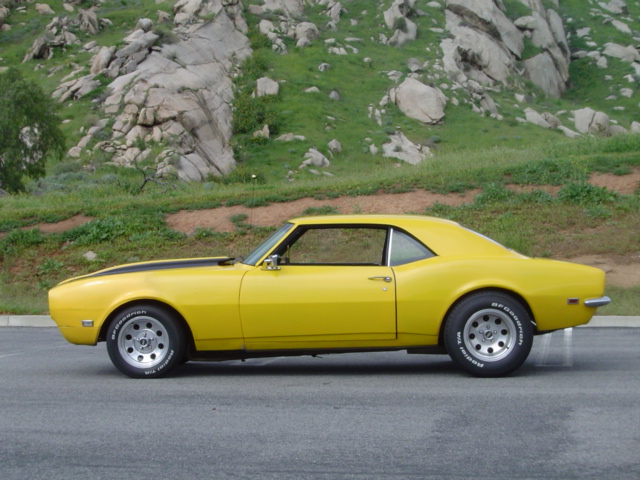 MY CAR:   1972 El Camino SS 

Name:     Stacey

Location:  Long Island, NY

My husband and I are moving to Florida in September.  I had a 1976 El Camino before I met my husband and had to sell it as I couldn't afford the car, apartment and dog all at once.  I let it go for nothing.  Awesome car.

Anyway, my 50th birthday is in August and I told my husband I wanted to buy a new Mustang before we left for Florida.  I have a mint 96 Eddie Bauer Bronco, luckily Joe is a Ford mechanic but I wanted something much more fun and what I was used to.

He surprised me a few weeks ago and told me he had found a 72 El Camino SS, all original, 402, fully loaded, 12 bold posi rear, Turbo 400 tranny, buckets, floor shift, a/c, the whole thing.  No work involved and in show condition.  I looked at and drove it, drives like new, and he asked if I wanted it, so he bought it for my birthday.  The best part is, he won't drive it or fix it, couldn't ask for anything more.  I grew up with mechanics and really needed something like this!

This is the only car I have ever wanted since I was 14.  I had my first El in my late 20's and early 30's and not finally got a really beautiful one to play with!  I have a gas line leak to fix this weekend and I am hoping the snow willl stop and I can drive it real soon.

I am looking forward to putting it in some of the shows on Long Island this year.  I know there are some coming up soon!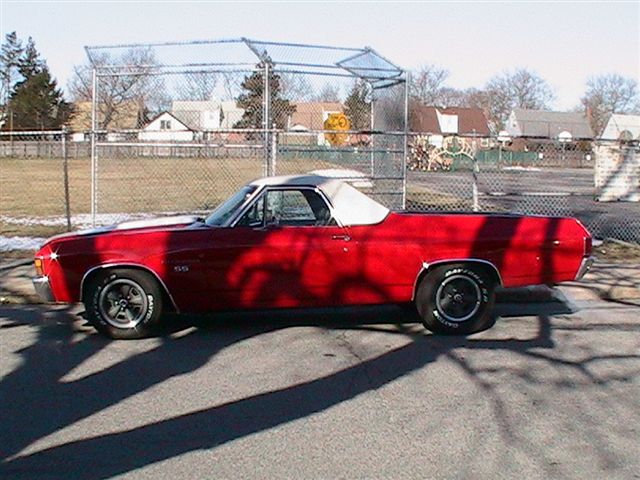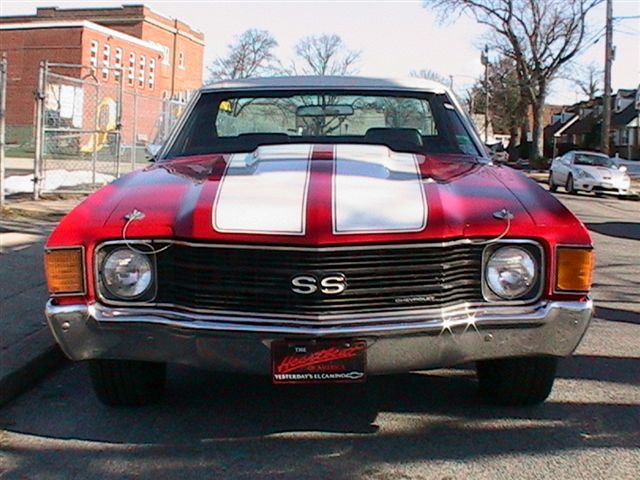 MY CAR:   1983 Buick Regal aka MamaSaid

Name:     Carrie "Buickbelle" Rahm

Location:  Wichita, KS

Let me tell you my Buick story.  I have owned my 83 Since January of 1998.  I bought the car to replace a 85 Cutlass that was totaled in an accident.  I loved that Cutlass and for the first few months after I got my 83, I still swooned when a saw a white mid eighties, but fortunately my Regal was a patient lady, and her lines started appealing to me, and now the Cutlass's look nice, but not as nice as my Regal, where the Cutlass is gracefully contoured, my Regal is a lttle sharper around the edges, and today I no longer swoon over Cutlasses that sure doesn't mean I no longer like them, because there still is a real soft part in my heart for em, but my Regal has put a whole different place in this ol heart o mine, especially after I fought so hard to keep it after the theft two years ago, but now I am getting ahead of myself.  My 85 was White on White, and so is my Regal, my daughter was out of town when we bought the car, and for a long time she thought we had fixed the Olds, and it wasn't till she noticed that the Regal had a bench seat while my Cutlass had buckets, that she finally noticed the difference.  (sure thought we had raised the kids better than that, my daughter is blonde, so you know my son had a ball with that one)

A year and a half after we bought the Buick, my husband finally found his "dream car", and bought a 61 Buick LeSabre (a bubbletop) it was definately a "project" car cause we only paid $500.00 for it so you can imagine what shape it was in, and you sure wouldn't be far from wrong,  The following summer we found the parts car for the 61, and since we now owned three Buicks, that is when I came up with my Buickbelle identity.  Since we now had an old car to work on, we decided it would be a good time to start entering shows, instead of going to them, so in July of 2000, we started entering the Regal in car shows.  My husband Mike (whom I affectionately call Roundman) worked on the 61 and we attended shows in the Regal till March of 2001 when the V6 in the Regal finally breathed it's last.  We went back to car show attendees that year cause we didn't have a car to show, work stopped on the 61 so Mike could find and replace the motor in the Regal.  We had had quite enough of that ever so stupid computer, so we decided to find a pre-81 V8 to put in the car and bypass the computer all togather.  We finally found the "donor" motor in a 77 Olds Vista Cruiser stationwagon.  by the following January of 2002, we had the motor in the car and it was the smartest thing we ever did.  Since the car had an Olds Engine we started calling the car BuMobile (Bu as in Buick, Mobile as in Oldsmobile).  Mike painted the engine Olds Gold, we put on a set of chrome vavle covers, and put in a new single inlet dual outlet Flowmaster muffler, the car was my pride and joy, and Mike went back to working on the 61.  I spent the summer of 02 having a ball showing off my Bumobile, and hot rodding all over town in it.  Then just as we were getting it ready for the 2003 shows, some creeps stole BuMobile from the parking lot at work in BROAD day light between 10:30 and 11:00AM!  The car was located five days later and all I got back was a shell, the crooks made off with over $2800.00 worth of my baby.  The list is a whole lot shorter of what I got back and my so called "full coverage" insurance added more insult to injury, they only paid be a bit over twelve hundred dollars for the car and wanted me to total it.  I refused.  This car is 90% rust free, and as far as I was concerned, I had a very workable shell.  Hubby and son were trying to talk me into getting rid of it, and again I flat refused, told me I didn't want a replacement car, I wanted my Buick  I knew they weren't going to find another 83 as rust free as my Regal.  I was right!!!!  The guys kept waving all these cars in front of my face, we found a fairly nice 73 Cutlass, and I was tempted, but just couldn't bring myself to let go of the Regal.  Then three weeks after the car was stolen, Roundman and Son loaded me in the Olds wagon and told me they had found a car I would love. Enter now our 1966 Pontiac Catalina.  Back then the car was Aqua and rust, but the body was sound and the chrome on this car was totally exquisite.  Only problem was I don't like big cars, I am a mid size lady, and really didn't want a sherman tank to drive everyday.  So, I made a deal with Roundman, the price of the Catalina was REAL hard to turn down, so I told him, Honey, YOU are the one who likes big cars, so if you want that Catalina BUY IT, at least it runs, and you still have yet to do that with the 61.  As cheap as the car is, we can restore it and make a killing, so get the car, do what you want with it, but I don't want to hear another word about getting rid of the Regal.  I don't care if it takes years, I can hold out, so buy the Cat, and promise me that one day, the Regal will run again.  Roundman jumped all over that idea. 

The summer of 03 was a hard one for me, going to the shows we attended last year in my Regal, and taking the progressing Catalina to that years shows. By July, Mike had restored the engine compartment, found a set of lancer hub caps, and we started showing the car in July.  By the end of the 03 car show season, that 1966 Pontiac Catalina was now Kool Kat.  I would not trade watching him transform that car for anything in this world, but something really special happend, Roundman began to understand what it was about the Regal that made me hold on so tightly to it, because by this time, after working so hard on the Cat, he knew there was NO WAY he could sell this car.  So my Christmas present in 2003 was a 81 Silverado pick-up (with just enough damage to it to make an insurance company total the truck but not enough damage to harm the brand new Chevy 350 Crate motor and a 400 Turbo, that engine and tranny had less than 3,000 miles on em).  As soon as it got warm enough to work on the car, he began the work of taking the motor and tranny out of the truck and collecting all the other stuff the thieves made off with (drive shaft, cross member and motor mounts) I had already bought a new radiator and had the steering column fixed, and found a nice set of Buick Rally five spokes at a swap meet, so everything else we needed was there.  The Regal finally hit the streets again last October!!!!

Since my Olds engine was stolen, I decided I needed a new name for the Regal, and while driving to work one morning listening to the oldies radio, on comes the song Mama Said there'd be days like this, and I immediately thought of my baby, thought now this is fitting, Mama Said the car stays, and Mama Said is the name of my baby now. 

We still have body damage that was done during the theft (very repairable), and since the car IS twenty two years old, the bumper fillers have disentigrated, the new ones are getting painted this week, and I found a nice rear bumper (mine is rusted in the middle), so by the first weekend of May, I will have the car 90% back to what it was when it was stolen, Son still has to replace the radio, I have one, but since he has a mending broken leg, it is kind of hard doing something like this, but he promises to have it in, we are taking BOTH cars to a show in Dewey, Okla. called the Stray Kat 500.  This will be Mama Said's first competative show since the theft.  Don't ya know I am one happy camper!!!!

The best part of this story is this, NOW that Roundman truly understands my tie to the Regal, he proudly tell anyone who compliments him on the Regal this it isn't his car, but his Wife's car.  He used to be embarrassed to take it to the KKOA shows, but not anymore.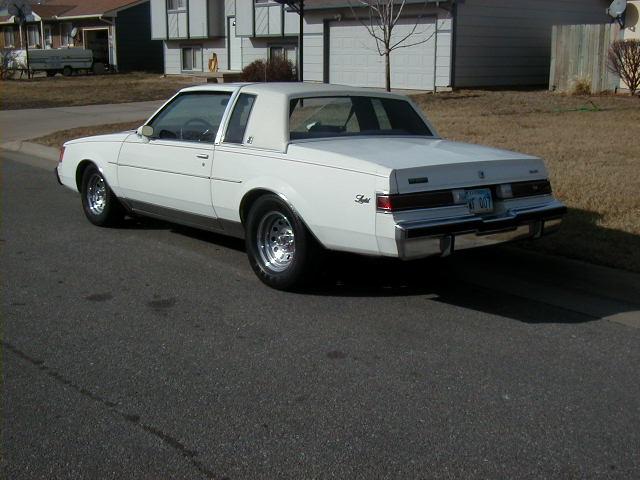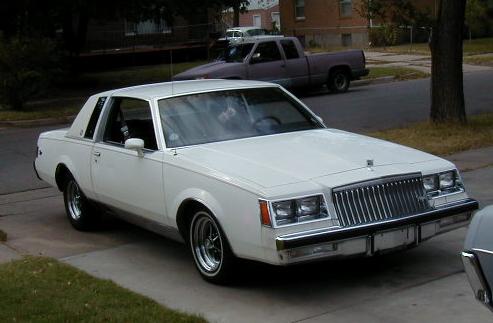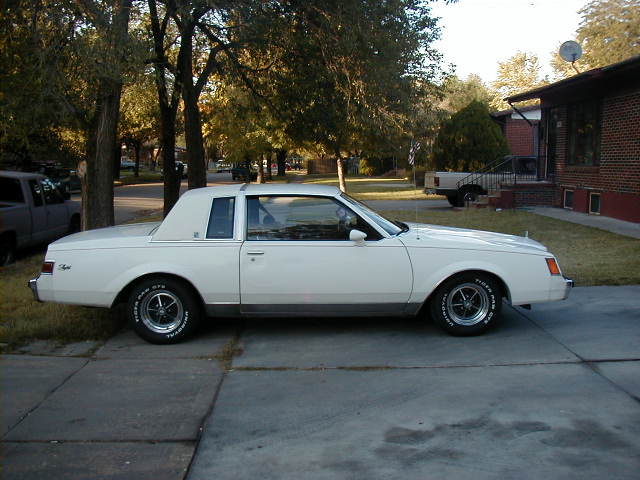 MY CAR:  1985 Mustang

Name:     Ann-E

Location:  New Jersey  


In my house, we do Mustangs and Corvettes.  This is my red 1985 Mustang.  We bought the car in October 2002 with 26,000 original miles - it's completely stock - no artifical flavors, no artificial colors - no modifications.  For an 18 year old car, you would think we just drove it off the showroom floor.  The Currently, the car has 27,000 miles - so you see, we don't drive it much - it's my show car! 
MY CAR:   1965 Ford Mustang 

Name:     Jo Dunn

Location:  Pasadena, CA

MUSTANG  FASTBACK

G.T. 350 Shelby Replication

Performance Built 289 V8

Edelbrock Carburetor,

Manifold & Cam…...Tri-Y Headers

2 ½" Flowmaster Exhaust System

C4 Auto Trans……...Power Brakes

Power Steering…Air Conditioning

Le Carra Steering Wheel

Torque Thrust D  15" Wheels

Suspension Enhancements

Original CA.  Black Plate Car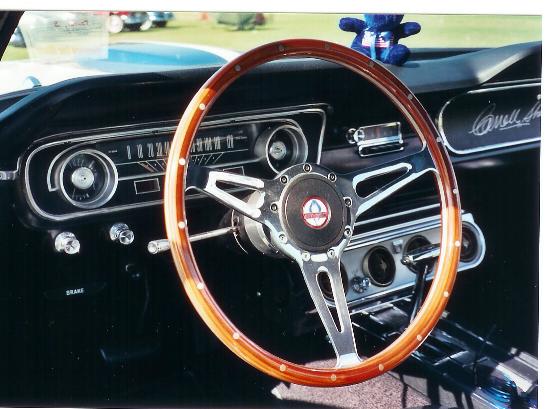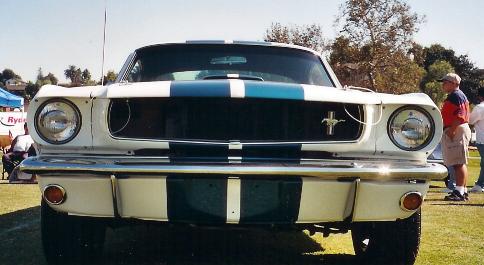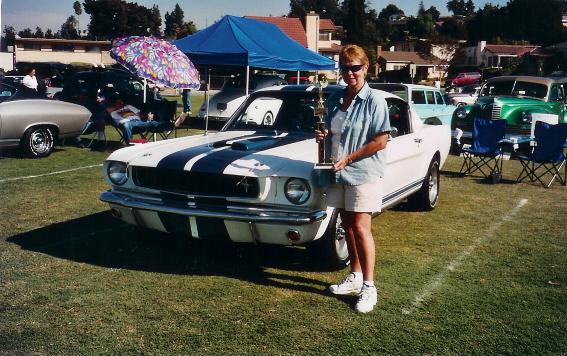 MY CAR:   1969 Plymouth Fury III

Name:     Cynthia

Location:  Maryland


This is my 1969 Plymouth fury 3.  As you can see, she's in great condition, only needing a few minor repairs to make her perfect.  She has the 318 engine, with the only luxury being air conditioning.  Everything else is basic, but that's ok, because she is one awesome car!  Beautiful, stylish and peppy!  But there is also an interesting story behind this car....

My granddad bought this car back in the early 70s.  Then in 1975, my dad's 67 Impala was stolen.  My grandparents gave my dad this car to replace his stolen Impala.  My dad enjoyed this car, frequently tinkering under the hood while I would play outside and watch him.  He kept this car until 1980, when he decided it would be more cost effective to replace rather than replace the failing transmission.  I remember being 9 years old, looking at that Plymouth as we drove off and left it behind.  It felt like we left behind a family member...

Then on September 17, 2005, I saw this car locally.  At first I wasn't sure it was the same car, but it sure looked like it could be.  On a whim, I left a note on the car asking the seller to contact me if he was interested in selling it.  Turns out he was, and accepted the offer I made on the car.  I asked questions about the car's history, and the more I asked, the more it sounded like this was the same car!

On November 23, I was able to take ownership of the car.  A few days later, my dad stopped by to see it.  He thoroughly looked over the car, and realized this was, indeed his Plymouth!  Since, we have enjoyed tinkering under the hood together, and going for rides. 

I hope you enjoy my story and the pictures of this jewel.  :)